GETTYSBURG, PA (October 4, 2019) – Adams Economic Alliance is planning for the county's future workforce by reaching out to Adams County's 8th and 9th grade students with a brochure touting the benefits of careers in the manufacturing industry. Today is National Manufacturing Day, concluding National Manufacturing Week, September 30-October 4.
"Today's students have a multitude of career options available to them," says Kaycee Kemper, Adams Economic Alliance Vice President. "A college degree is one of those options, but trade and technical options offer fantastic, skilled, well-paying career opportunities as well. Our goal is to open students' eyes to the possibilities of exciting, high-tech and in-demand jobs in the growing manufacturing sector."
The brochure, "Spark Your Career Ideas!" is being distributed through the county's guidance counselors, and it's also available on the Alliance website, below.
It offers "Five Fun Facts About Manufacturing in Adams County," including:
The average manufacturing employee earns $49,682 annually in Adams County.
Adams County has 115 manufacturers creating unique, technology-driven products.
The brochure also includes a section touting the programs available to students at Adams County Tech Prep, open to students at Bermudian Springs, Fairfield, Gettysburg, Littlestown and New Oxford. Those programs, open to 11th and 12th graders, prepare students for careers in the following fields:
Allied Health
Building Trades
Computer Networking
Culinary Arts
Diesel Technology
Early Learning
Law Enforcement
"Eight and ninth grades are formative years in students' career development," says Robin Fitzpatrick, Alliance President. "It's a time when students can explore career options, and we are thankful for numerous free tools available to students via HACC. These resources are planting seeds with our county's future workforce."
HACC's resources, listed in the brochure and available at www.hacc.edu/students/careerservices include:
HACC's "Career Coach" program
A "career personality" quiz available on HACC's website
Resources that explain which college majors lead to which jobs
Information on careers that are in demand—locally, regionally and nationally
Job and internship listings that students can search
"College Central" podcasts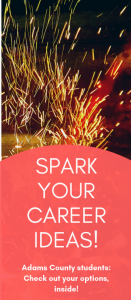 The brochure, produced by the Alliance, was printed through a gift by one of Adams County's manufacturers—Graphcom Incorporated, a marketing agency, printing and production facility. To download the brochure, click here.
It is the mission of the Adams Economic Alliance to develop and implement creative community-based strategies to enhance economic opportunity and foster a dynamic framework for balanced growth and development through the Adams County Economic Development Corporation, Adams County Industrial Development Authority and Adams County General Authority.
MEDIA CONTACT: KAREN HENDRICKS / HENDRICKS COMMUNICATIONS / 717-253-3553