THE ADAMS COUNTY
ADVANTAGE
Adams County Economic Development Corporation
Adams County Industrial Development Authority
Adams County General Authority
THE ADAMS COUNTY
ADVANTAGE
Our Alliance is your Advantage
.
Adams County. South Central Pennsylvania. Rich history. Abundant quality of life. Located within a day's drive of 40% of the U.S. population and 60% of the Canadian population, millions of visitors travel here every year to experience the majestic battlefields, charming downtowns and serene orchards.
Adams Economic Alliance provides personalized and focused retention, expansion, attraction and workforce development services for business. We invite you to consider Adams County, Pennsylvania as your business' next home.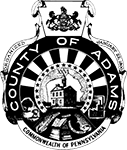 THE YEAR OF THE MUNICIPALITY 2
The Alliance has partnered with
Adams County Office of Planning & Development
(ACOPD) to facilitate discussions with all 34 municipalities and the 6 school districts across Adams County as part of a community outreach effort.
ADVANTAGE ADAMS
The Alliance has partnered with several community partners to form 
Advantage Adams
. The partnership is hosting panel discussions with the top 5 growth industries in Adams County.
REGIONAL PARTNERSHIPS
The
South Central PA PREP 
team was recently awarded the ENGAGE! contract from the Department of Community & Economic Development and the Department of Labor & Industry to implement and execute a business calling program for Southcentral Pennsylvania.
| PIDA Lending Rates | |
| --- | --- |
| (fixed rate, terms vary) Rates expire 12/31/18 | |
| Real Estate Loans | 3.75% |
| Equipment Loans | 3.75% |
| Pollution Prevention and Energy Efficiency Loans | 2.00% |
| SBA 504 Lending Rates | |
| --- | --- |
| Real Estate 25 Yr Loan | 4.89% |
| Real Estate 20 Yr Loan | 4.76% |
| Equipment 10 Yr Loan | 4.66% |
Industrial Development / General Authority
Taxable and tax-exempt bonds
Rate set by bank and typically range 75% of prime
"The Alliance is working hard to improve the business climate in Adams County. By encouraging new businesses to open their doors and by providing support to those businesses that are already here, our local economy will improve and we all will benefit."- Duane Kanagy, Manager- Communication/Community Services, Adams Electric Cooperative