GETTYSBURG, PA (February 8, 2021) –Adams Economic Alliance officials announce that Abbottstown Industries has secured a Small Business Administration (SBA) 504 loan, which will allow the nearly 50-year old manufacturing facility to change hands, yet retain its tradition of being a family-owned and operated Adams County business. Ian and Ashly Miller are purchasing the custom machinery-producing company from Ian's uncle, Dan Althoff.
Founded in 1973, Abbottstown Industries has grown from a precision tool-and-die maker to one of the largest custom machinery-building facilities in the Mid-Atlantic region by forging relationships with local, regional as well as nationally-known companies. Abbottstown Industries employs more than 30 skilled workers.
"This loan allows a seamless transition, not only for our customers, but for all of our valued employees—and their amount of tenure is significant. Numerous employees have been with Abbottstown Industries for more than 20 and 30 years, which speaks to the family atmosphere and employee satisfaction," said Kristopher Brooks, Abbottstown Industries General Manager.
The federally-funded SBA 504 loan program offers 10, 20 or 25-year terms with fixed rates lower than conventional rates, that can be applied to real estate, machinery and equipment purchases.
"We recognize and support Abbottstown Industries' valuable, long-standing contributions to the Adams County economy," said Robin Fitzpatrick, Alliance president. "They play a prominent role in our region's rich tradition of manufacturing—and beyond that, we could not be prouder of the significant role they play within the manufacturing industry's intricate national landscape."
Abbottstown Industries supports an increasingly-diversified customer base, including the vinyl siding industry by creating: the rollers that imprint long ribbons of vinyl siding with wood-like grain, rotary nail slotters that create nail hems which allow siding to be hung, plus punchers that create tiny "weep holes" allowing moisture to escape from siding, vinyl pullers that help keep the production line moving and flying shears that cut siding into customized lengths—all with "incredible precision," said Brooks.
Additional customized products include:
Dies created for the ceramic floor industry, in a wide range of styles and sizes
Wire mesh dies used in the production of lint traps for commercial dryers
Cabin filters created for the automotive industry
A die used in the production of 10,000 Mac Truck grills in 2018
Customized equipment and machinery used in the manufacturing of paper tubes
Dies utilized in powered metal facilities for making a wide array of parts and tooling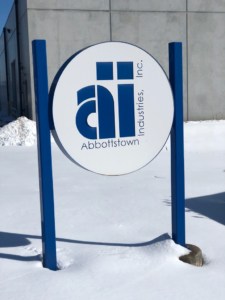 "Additionally, our industrial in-house mixer, the ASC Tornado mixes liquids between 50 to 80% faster than propeller blades, which helps us support many industries including the paint industry, distilleries and the food processing industry," Brooks said. "We recently expanded our customer base amid the pandemic to support operations that needed to properly mix hand sanitizer."
Abbottstown Industries works closely with area schools such as the Hanover and Conewago Valley School Districts to create awareness and interest in skilled manufacturing careers. They also offer student co-op programs, apprenticeships and numerous employee benefits. For more information, see abbind.com.
Abbottstown Industries'  loan is the second SBA 504 loan recently processed in Adams County, through the Alliance's partnership with EDC Finance Corporation of Lancaster. A federally-funded SBA 504 loan in 2019 helped environmental testing company Laboratory, Analytical & Biological Services (LABS) of New Oxford move from East Berlin and renovate its new facility.
"The formula for this program makes it advantageous and appealing to small businesses," said Kaycee Kemper, Alliance Vice President. "It allows businesses the ability to borrow up to 90% of the loan amount, combined with low interest rates, so that all the partners—the business, lenders and community—have every chance at success."
Adams County businesses interested in the SBA 504 or additional loan programs should contact Kaycee Kemper at Adams Economic Alliance (717-334-0042, extension 2). Programs are available across a wide variety of industries, including Adams County's three primary industries—agriculture, tourism and manufacturing.
It is the mission of the Adams Economic Alliance to develop and implement creative community-based strategies to enhance economic opportunity and foster a dynamic framework for balanced growth and development through the Adams County Economic Development Corporation, Adams County Industrial Development Authority and Adams County General Authority. For more information, see adamsalliance.org, or follow the Alliance on Twitter (@AdamsAlliance), Facebook (Facebook.com/AdamsAlliance) and LinkedIn (Adams Economic Alliance).
###
MEDIA CONTACT: ADAMS ECONOMIC ALLIANCE / 717-334-0042