As we approach Veterans Day, there's a lot to celebrate. Certainly, our veterans themselves are worthy of our recognition and gratitude. And in Adams County, there's a growing grassroots movement known as VAN that is acting upon their gratitude and making real strides to help and improve our veterans' quality of life. I'm especially proud to say Brady Rodgers, the Alliance's Director of Business and Community Outreach, is playing a pivotal role.
Last October, Brady invited anyone interested in improving the lives of our veterans to meet here at our Alliance office. We were overwhelmed and heartened by the community response. From this initial brainstorming session, the group has organized into the Adams County Veterans Advocate Network, commonly called the Adams VAN or just VAN. This group dovetails its efforts with the long-existing Adams County Veterans Affairs office headed by Stan Clark.
Fast forward to the group's most recent meeting, one year later, in October of 2023: There were 22 participants representing 19 organizations!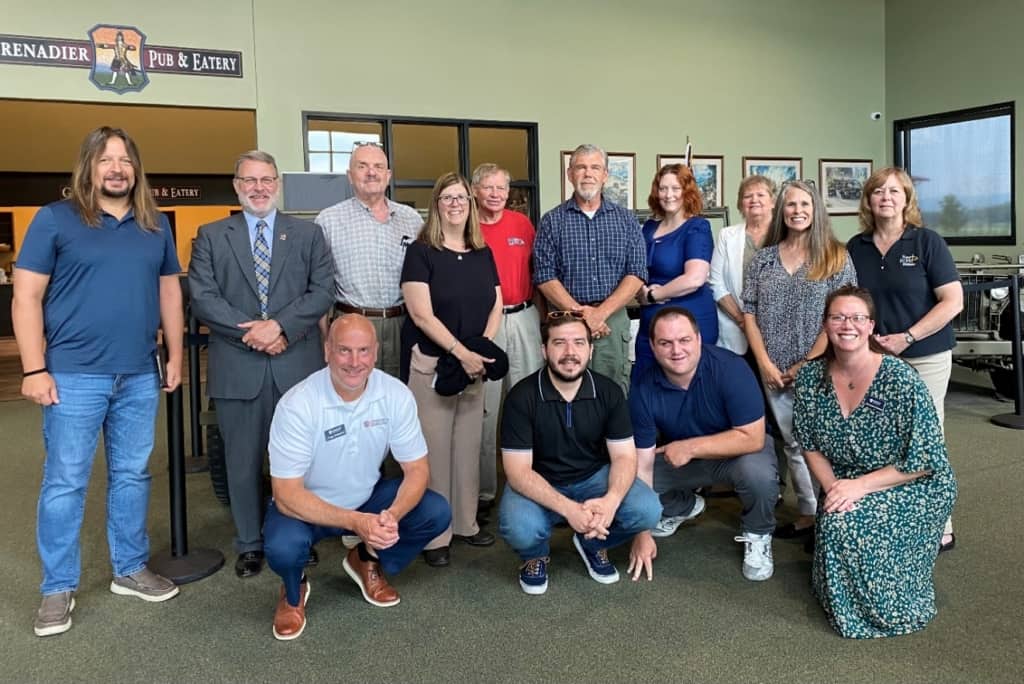 Front row: Craig Swineford – DMVA, Marc Unger- TenFold, Brady Rodgers – Adams Economic Alliance, Samantha Cossman – DMVA.
Back row: David Cummiskey – DOL-VETS, Doug Etter – Lebanon VA, Stan Clark – Adams Co. Veteran Affairs, Kathy Gaskin – Health Adams County, Greg Lang – Adams County Veteran Council, Sonny Freeman – Adams Co. Veteran Affairs, Angel McLaughlin – YWCA of Greater Harrisburg, Cathy Pristas – PA National Guard Family Programs, Jennifer Hagaman – DMVA, Sue Fornicola – New Hope Ministries.
Not pictured: Stacey Rice – @Home Adams County
What has the group accomplished, in one short year? The answer may make your head spin. The lives of veterans are being impacted, positively, already. This dynamic group set top priories and focused on five key areas related to veterans: food access, VA health care access, transportation, housing and the newly-identified veterans' court. Workgroups in each of these specific areas are flourishing. They are also on the cusp of some big announcements!
There are several key participants I want to recognize here:
Elizabeth Cooper, the Disabled Veterans Outreach Program Specialist, based in PA CareerLink Adams County offices within our Alliance building, as well as PA CareerLink Franklin County.
Samantha Cossman, the Regional Program Outreach Coordinator (RPOC) for Central PA, within the Division of Reintegration and Outreach, PA Department of Military and Veterans Affairs (DMVA).
Craig Swineford and Jennifer Hagaman, also within the DMVA's Division of Reintegration and Outreach, Central PA region, are both Veteran Service Specialists.
There are many other key VAN members, and I encourage you to seek out the big group photo we'll post on our social media accounts today (Facebook, Twitter and LinkedIn). Feel free to comment on that post and thank them!
"I quickly learned that there were resources in Adams County for veterans, but none of them really knew about each other. Being able to get together with Samantha and Brady by brainstorming what we could do to bridge this gap, we decided to create this network to bring advocates that serve our community, but also serve veterans together and address specific needs," explains Elizabeth.
VAN meshes with a similar state program called PA VetConnect. Samantha, Craig and Jennifer all work under PA VETConnect, designed to reach service members, veterans and their families, caregivers and survivors where they are and to help increase communication and collaboration among professionals and advocates serving veterans. Resource awareness, uncovering unmet needs and finding resources to address those needs are at the heart of the PA VETConnect program.
"Some counties have coalitions that focus on our military-affiliated populations; others do not. So where they do not yet exist, we work hand-in-hand with key veterans advocates on the ground level to create a group. In Adams County, that effort resulted in the VAN," Samantha says, noting she's encouraged by VAN's "robust conversation with passionate participation from great veteran advocates located in or serving Adams County."
Anyone who has a heart for our veterans is welcome to participate in VAN. The group is informal; there are no agreements or forms to sign to become involved. People are welcome to come to any or all of the meetings, held quarterly, and/or to participate in any of the specific workgroups.
To participate in VAN, contact Samantha Crossman and/or Brady Rodgers.
Robin Fitzpatrick is President of Adams Economic Alliance, which comprises three organizations: The Adams County Economic Development Corporation (ACEDC), the Adams County Industrial Development Authority (ACIDA) and the Adams County General Authority (ACGA). For more information, see adamsalliance.org, or follow us on Twitter (@AdamsAlliance), Facebook (Facebook.com/AdamsAlliance) and LinkedIn (Adams Economic Alliance).