Time for a little Adams County trivia:
Can you name the five closest airports to Adams County?
How many homeowners are there in Adams County?
Think about Adams County demographics: Which age group is largest?
And this one might be tough: Think about the talent pipeline for our region. Of the colleges and universities within a four-hour drive of Adams County, what are the two largest college majors being studied?
Check your answers here!
Airports? Harrisburg International Airport (HIA), Baltimore Washington International (BWI), Washington Dulles International, Philadelphia International Airport, and Lehigh Valley International Airport.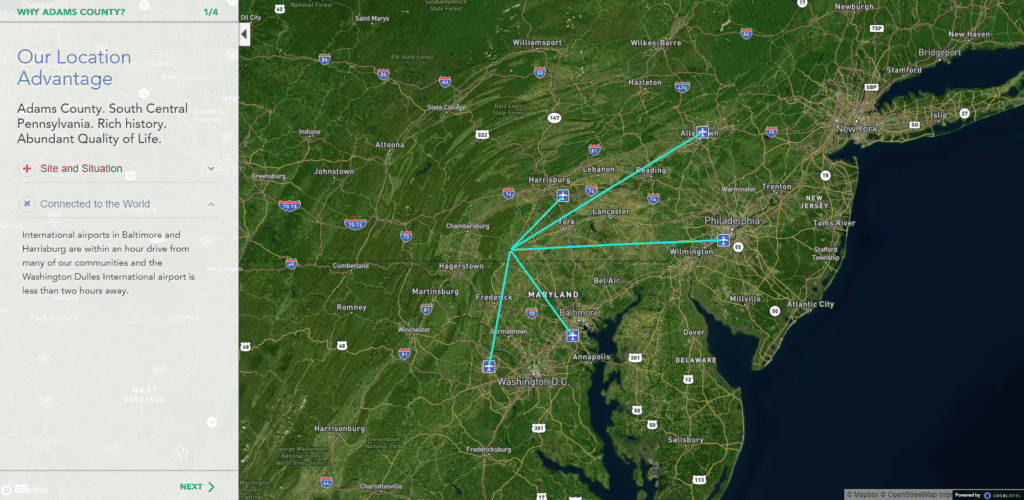 Homeowners? There are 30,692 homeowners in the county, compared to 8,653 renters. If you want to know how this compares to state and national numbers, our ratio of homeowners is much higher.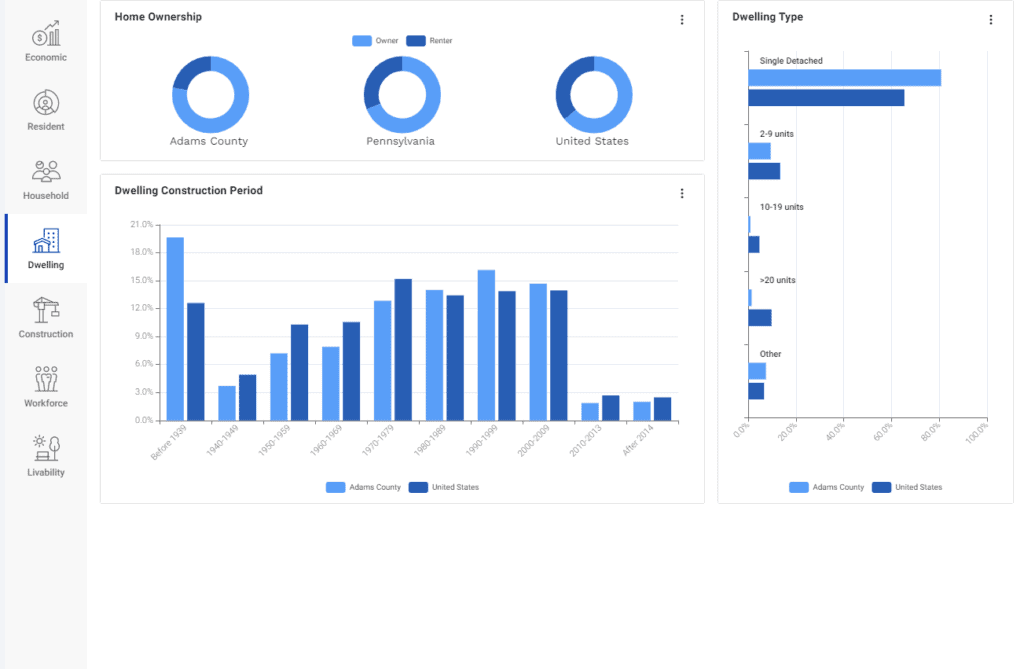 Demographics? In Adams County, there are more residents in their 50s than any other age group—just over 15% of our population. Those in their 60s are next (13.8%), followed by youth ages 10-19 (12.7%).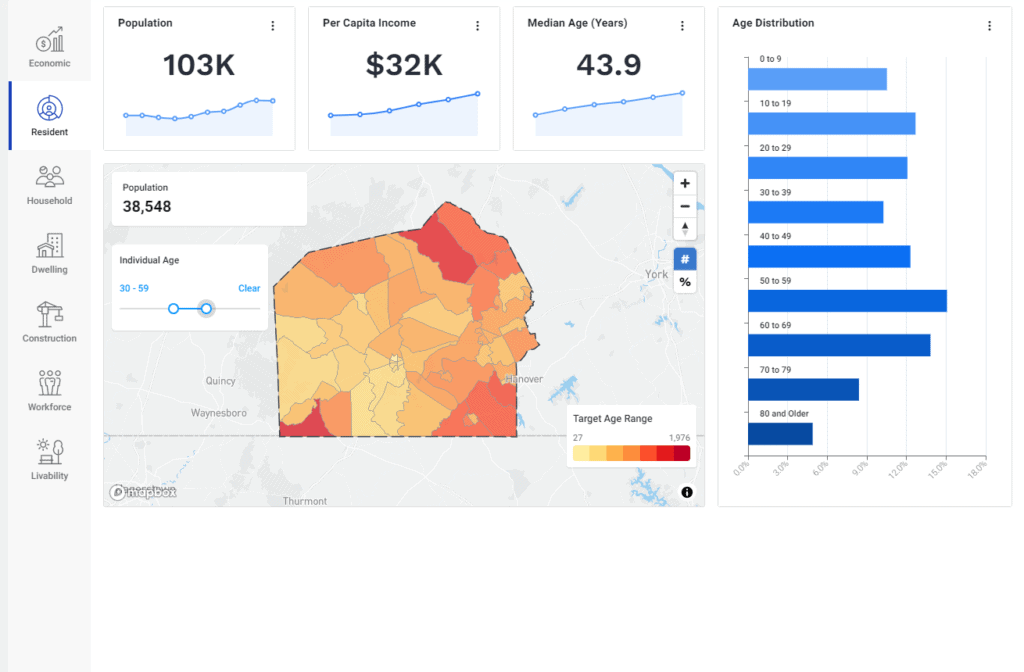 Now for college majors feeding into our region's talent pipeline. The largest major is business management including marketing, with 576,448 students. And the second-largest study area is computer and information sciences with 103,674 students.
Now let's take all these facts to the next level.
Want to plot the mileage and routes to those five closest airports in order to fly your goods around the world? What if you're in the construction industry, and you'd like to know what type of home is most popular in the county? (81% of our homes are single-detached.) In terms of demographics, want to actually see the concentrations of age groups across the county? There's a map for that. And there are also maps with "hot spots" showing exactly where those college majors are studying various subjects. Lots of business majors at Gettysburg College!
You can call all this trivia, but drilling down deeper into the facts, maps, and stats is actually "intel," a term shortened from the word "intelligence." Intel sounds like I'm on a covert mission to uncover facts and discover hidden nuggets of knowledge. And not only can I do that, but you can too!
Here's how: Go to our Adams Economic Alliance website at AdamsAlliance.org and look for the "Adams Intel" link, right on our homepage. I have barely even scratched the surface by tossing out a few facts in this column. There are TONS of data organized into various "tools," which are constantly being updated with the latest data. We partner with an incredible firm, LocalIntel, based in Canada, to power this microsite housed within our website. They recently upgraded our tools to include several new, cutting-edge functions such as the talent pipeline data.
Who can use Adams Intel? It's all free and available to the public! Please use it and check it frequently. Bookmark it. Starting a small business? Chances are, you can do your market research thanks to Adams Intel. Writing a grant for your nonprofit? Check Adams Intel to make your case through data research. No matter your industry, do your market research, locally, regionally and nationally, via Adams Intel. Know someone who wants to locate a business in Adams County? Send them a link to Adams Intel!
There's even a new "Quality of Life" section coming soon to Adams Intel—keep your eyes open for it.
Just think, as a regular user, you too can claim, "Our intel tells us…" and "Our company utilizes intel." Enjoy!
Robin Fitzpatrick is President of Adams Economic Alliance, which comprises three organizations: The Adams County Economic Development Corporation (ACEDC), the Adams County Industrial Development Authority (ACIDA) and the Adams County General Authority (ACGA). For more information, see adamsalliance.org, or follow us on Twitter (@AdamsAlliance), Facebook (Facebook.com/AdamsAlliance) and LinkedIn (Adams Economic Alliance).