One loan assists Hickory Bridge Farm Restaurant; another helps farming family transition to full-time agriculture
GETTYSBURG, PA (March 8, 2023) – Two Adams County family businesses are expanding and improving, aided by low-interest loans arranged through the Adams Economic Alliance and the state's Pennsylvania Industrial Development Authority (PIDA). One loan is allowing Justin and Jennifer Martin of New Oxford to transition from part-time to full-time farming, and the second loan is financing a heating and air conditioning system for a new event venue at Hickory Bridge Farm Restaurant in Orrtanna, owned by Mary Lynn Martin (no relation to Justin and Jennifer).
"Nurturing Adams County's small business owners in their growth is both critical to our economy as well as one of the most rewarding aspects of facilitating PIDA loans, because you see exactly how the loans are sparking life-changing benefits," said Kaycee Kemper, Alliance Vice President.
A $400,000, 15-year low-interest (3%), fixed-rate loan processed through the Alliance's Adams County Economic Development Corporation (ACEDC) and PIDA, in partnership with First Citizens Community Bank, assisted Justin and Jennifer Martin in the construction of two hen houses on their 62-acre farm. The couple, both hailing from farming families, purchased the property five years ago and have been raising sheep and hay.
"This loan will enable us to become full-time farmers," said Justin Martin, 34. "We're hoping this project can be a blessing for our children and the kingdom of God at large. We're here as caretakers, and God owns everything, so we're going to take care of it the best we can."
Meantime, a $71,000, 15-year fixed-rate, low-interest (4.75%) loan also processed through the Alliance's ACEDC and PIDA, assisted Mary Lynn Martin with the installment of a heating and air conditioning system in the "Red Shed," a 6,500-square foot event venue on the property of Hickory Bridge Farm Restaurant.
"My parents purchased Hickory Bridge Farm as a restaurant in 1977," said Mary Lynn Martin. "Now we're a third-generation business, as my son Bert has taken the Red Shed project under his wing. The Red Shed takes our business up to another level, and being able to offer air conditioning and heating in a barn venue gives us a huge advantage, that provides our wedding and family reunion guests with more comfort."
The Red Shed, which accommodates 175 people, is also the site of monthly line dances and line dance classes.
These two loans mark the 149th and 150th low-interest PIDA business loans facilitated by ACEDC. In total, the Alliance has now facilitated financing to more than 200 Adams County businesses throughout its history, generating a grand total of nearly $430 million in financing.
ACEDC is certified annually by DCED in order to process and administer loan and grant programs for Adams County's businesses including those in the agricultural sector. Kemper encourages Adams County's farmers, agribusinesses, manufacturers, aspiring entrepreneurs as well as established businesses to contact her regarding potential loan and grant opportunities. Kemper can be reached at the Alliance at 717-334-0042, ext. 2.
It is the mission of the Adams Economic Alliance to develop and implement creative community-based strategies to enhance economic opportunity and foster a dynamic framework for balanced growth and development through the Adams County Economic Development Corporation, Adams County Industrial Development Authority and Adams County General Authority. For more information, see adamsalliance.org, or follow the Alliance on Twitter, Facebook and LinkedIn.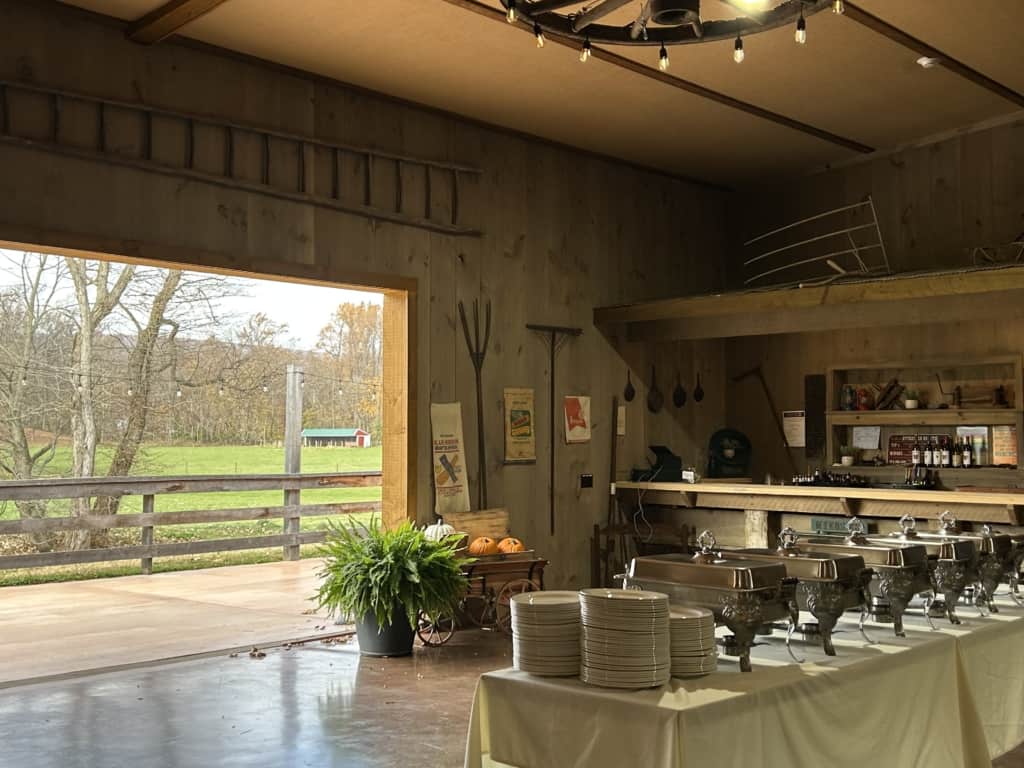 The Red Shed, an event venue space on the property of Hickory Bridge Farm Restaurant, Orrtanna, now offers heating and air conditioning to its wedding, family reunion and special event guests, thanks to a $71,000 loan with low-interest and fixed rate financing facilitated by Adams Economic Alliance in partnership with the state's Pennsylvania Industrial Development Authority (PIDA).
MEDIA CONTACT: KAREN HENDRICKS / HENDRICKS COMMUNICATIONS / 717-253-3553