I've been thinking a lot about energy these days. During the summer, who hasn't witnessed the flashes of lightning, the rumbles of thunder, and the tremendous energy of a thunderstorm? And who isn't grateful for the energy that powers air conditioning during these hot summer days?
Currently, many of us are affected by high gas prices, as gas is the primary energy source we put into our gas tanks to provide transportation. (But here's a good opportunity to put in a plug for fabulous, affordable Rabbittransit options, as a great alternative to high gas prices!)
But back to energy. On a more personal level, our health and wellness often dictate our energy level. What gives you energy? For me, partnering with others, working in community, gives me energy and inspiration. Collaboration is one sign of a healthy community!
All this comes to mind because I want to introduce a new member of the Adams County community who is radiating energy into the community! Jim Lee is the new site administrator at Adams County PA CareerLink, which is located next-door to our Alliance office within the Adams Commerce Center. Jim brings a wealth of experience and talents to the position, including more than 30 years as a management consultant. Just two months into the job, Jim has assembled an incredible community event unlike anything that's ever taken place at the commerce center!
On Wednesday, July 20, the public is invited to a festival-like atmosphere for a grand community event celebrating National Pennsylvania Day. Jim has created a dynamic lineup of more than 25 partners designed to inspire your career and enrich your community ties.
Attendees can learn about career opportunities through an employers' showcase, career training opportunities, the wide range of social services available to the community, opportunities to "give back" including donating blood via the Central Pennsylvania Blood Bank (registration is kindly requested ahead-of-time) and even the chance to nurture your health via Pennsylvania Department of Health screenings.
"It's going to be a great day, celebrating the community," says Jim. "The ultimate goal is to raise awareness of all the resources available to the Adams County community, to help people find their dream careers, and to pay for their career training if possible."
In his role with Adams County PA CareerLink, Jim says he doesn't think of it as matching people with jobs—instead, he and his staff pour their energies (there's that word again!) into helping people discover careers that tap into their skills and talents. While a job can be a temporary way to earn an income, Jim thinks of careers as life-long paths that evolve. Are you pouring your energy into a career you love?
And what does it mean, to match someone with a new career?
"For our staff, that is the most satisfying thing we can imagine. This is what brings us into the office every day, to help our community," says Jim, who points out that Adams County PA CareerLink includes staff trained to assist veterans, farm workers, and many other specific community members.
Festivities on July 20 run from 8 a.m. to 4 p.m. at 150 V-Twin Drive. Participants include:
Central PA Blood Bank, Adams County Housing Authority, PA State Police, South Central Community Action Program, Prologis, Army National Guard, HACC, Knouse Foods, Healthy Adams County, NuPaths, RH Sheppard, Adams County Technical Institute, AAA School of Trucking, Dress for Success, Shelly Truck Driving School, Giant Foods, Adams Rescue Mission, Wellspan Health, York County School of Technology, and many more, including a food truck!
And just one more reflection about energy: As I reflect on all the community projects the Alliance has touched over the past nearly 30 years, I believe the creation of the Adams Commerce Center is one of our highlights. It gives me great joy to see it flourishing with thriving businesses on a daily basis. The energy and vitality of the July 20 event is a wonderful first for the Commerce Center, thanks to Jim Lee and the PA CareerLink team. I hope to see you there!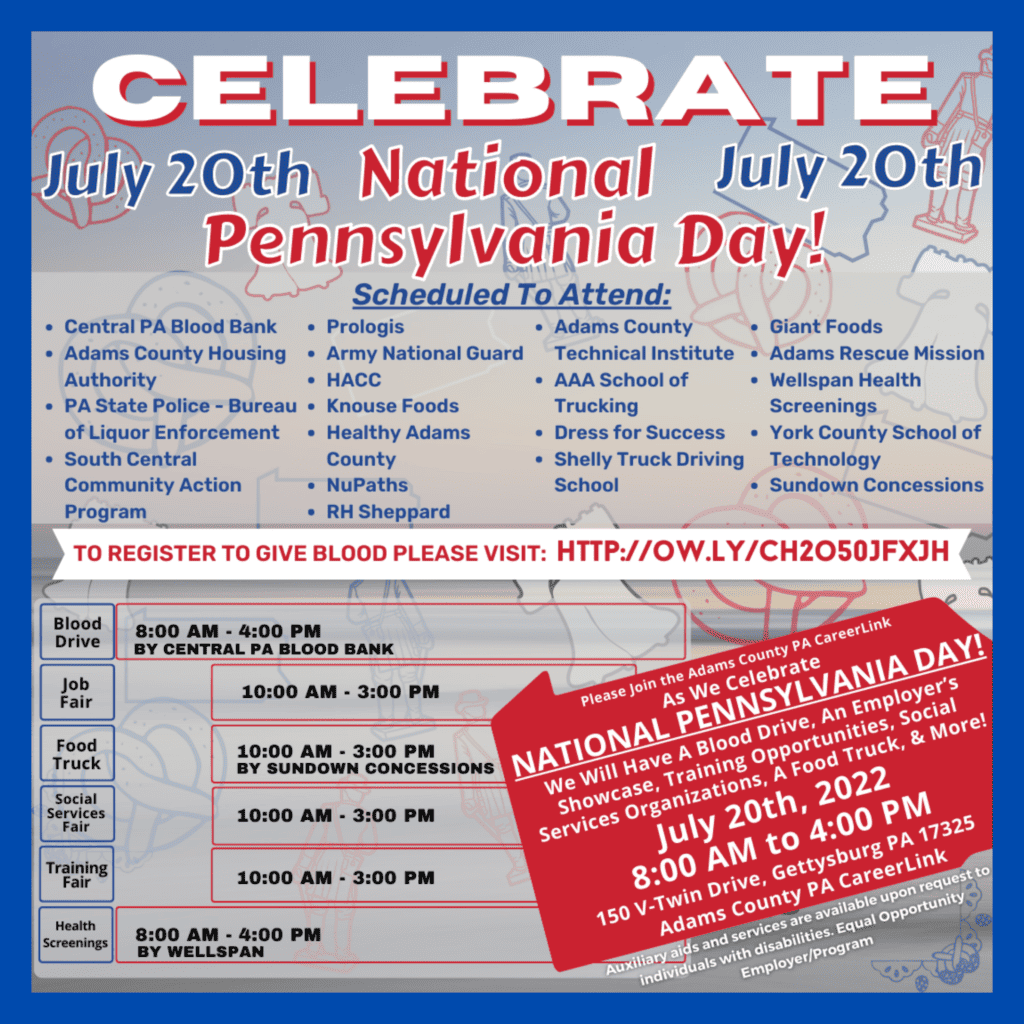 The Adams County Economic Development Corporation (ACEDC), the Adams County Industrial Development Authority (ACIDA) and the Adams County General Authority (ACGA). Follow us on Twitter (@AdamsAlliance), Facebook (Facebook.com/AdamsAlliance) and LinkedIn (Adams Economic Alliance).
This article originally published in the Gettysburg Times, July 14, 2022